#GrowYourLife #BuildYourBusiness
Life Area: Professional
Topic: Productivity
As a small business owner and entrepreneur, you are always looking for ways to GET MORE DONE, BE MORE EFFICIENT, and FOCUS ON THE BIG THINGS.
Well, what would you think if I said I could recommend some easy to use iPhone apps to help you accomplish just that? And, what would you think if I said I had already compiled them into an easy to read eBook that had built-in links that took you right to the App Store to download them. And, what would you think if I told you that the eBook was FREE?!
Well … you guessed it, I have created such a FREE RESOURCE for you. You can download your FREE copy [here]:
---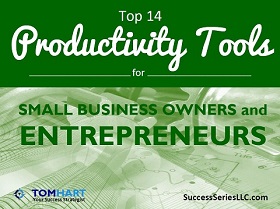 ---
Now, for you Android users out there, go ahead and download the FREE eBook too! Even though it doesn't have links directly to GooglePlay, the eBook will be equally useful to learn what to search for.
Also, for my Real Estate Professionals out there: the genesis of this project was my new online course entitled Build Your Dream Real Estate Business to be launched at a later date. It is a take-off of my entrepreneur course Build Your Dream Business (which will also be made into an online course). The Build Your Dream Real Estate Business online course has a "Productivity" module, and it is for that Productivity module that I created a separate eBook specifically for you entitled The Top 15 Productivity Tools for Real Estate Professionals. It contains the real estate industry's best productivity apps to help you reach your real estate career goals faster. You can find the Top 15 Productivity Tools for Real Estate Professionals eBook [here]: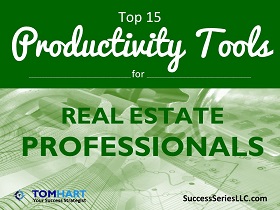 ---
Forward this email to your professional friends and associates and recommend that they download these valuable resources immediately while they are still FREE. You can find these, and other valuable FREE resources, on my website Resource page at www.SuccessSeriesLLC.com/resources.
---
My mission is to inspire people and organizations to live their highest vision.
I am a Success Strategist and Master Coach. I provide transformational coaching and training for individuals and organizations to help you Grow Your Life and Build Your Business by getting clear and focused on what you want, why you want it, and how to create it. Learn more about me at SuccessSeriesLLC.com.
There is no better endorsement than that of a friend, so if you like what you're reading or are using my many FREE resources, tell a friend to join the Tom Hart Success Series Community, to receive email notifications of new blog posts and Talk with Tom podcast episodes, learn of upcoming events, and other news, by visiting my website  and clicking on the offer to receive my FREE monthly resource by leaving their email address OR forward this to them and have them simply click here (we respect your privacy and do not tolerate spam and will never sell, rent, lease or give away your information to any third party).