It's that stereotypical time of year when we all set our goals for the coming year and on today's episode of Talk with Tom, Tom will be giving us his Ultimate Goal Setting System. Tom will walk us through his step-by-step goal setting system to guide you from your Grand Vision to your daily action steps.
---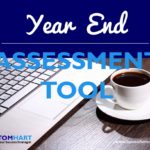 Download my FREE Year-End Assessment Tool [here]. As you look to the new year, it's important to step back and take a look at the year just finished – to take inventory, add it all up and see how you did. What were your successes, and where did you come up short? What worked? What didn't? Download my FREE Year-End Assessment Tool [here] to help you do just that. My FREE Year-End Assessment Tool is a guide to help you assess the progress you made toward achieving your goals this past year and set you up for success in the coming year. Download this valuable FREE resource [here] and get started today!
---
Every month Tom shares topic after topic to Grow Your Life and Build Your Business. If you're not already a subscriber, join us. Talk with Tom is 100% free, and there are special benefits available only to our subscribers, so be sure you subscribe yourself on iTunes or wherever you get your podcasts, and we look forward to seeing you right back here on the last Wednesday of every month with Talk with Tom.
Podcast: Play in new window | Download
Subscribe: Apple Podcasts | RSS