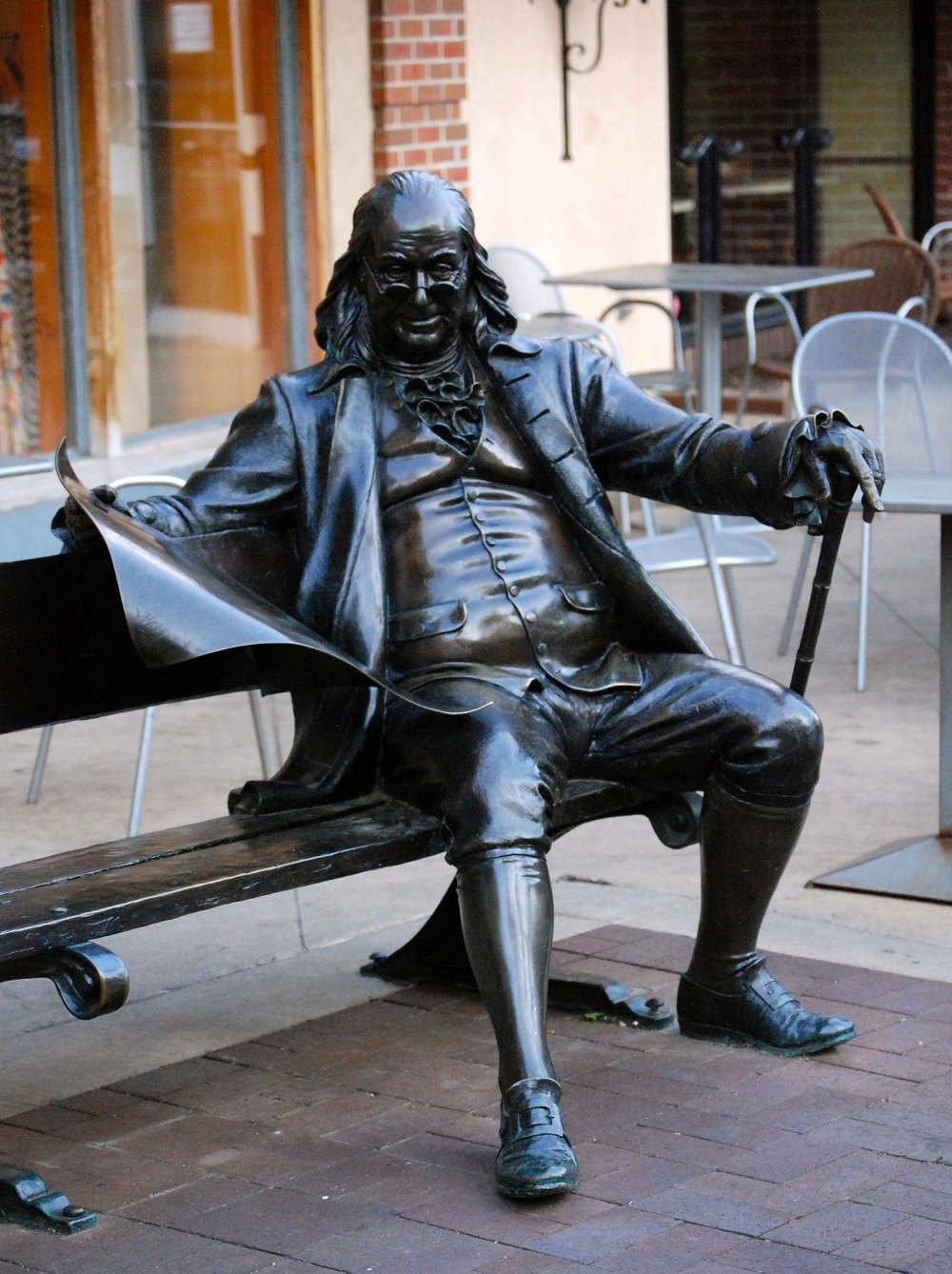 #GrowYourLife #BuildYourBusiness

Life Area: Personal
Topic: Productivity
10 Productivity Hacks We Can Learn From Benjamin Franklin's Daily Schedule
For my Sunday reading, I selected one of my favorite books off my bookshelf, an autobiography: Benjamin Franklin, America's Original Entrepreneur.
In Franklin's 84 years of life he was not only a statesman and one of the United States' founding fathers, he was also an inventor, author, publisher, musician, diplomat, and founded many civic organizations including the library system and the University of Pennsylvania.
As I thumbed through the book, I noticed a number of productivity hacks and daily disciplines that you may want to integrate into your daily schedule.
Known as the author of many historic and modern-day axioms, such as "The early bird, gets the worm" and "A penny saved, is a penny earned". What Franklin may not be so well known for is his self-discipline, including his daily habits and how he conducted his day. Here's a view of his calendar on a typical day and some noticeable principles for us to imitate:
1. Keep it simple
The first thing to note about Franklin's daily schedule is its simplicity. There are only six time blocks scheduled for each day, and one of these blocks includes sleep — an obvious necessity. There's no overwhelming to-do list of things to get done. It's simple, focused on the essential, and highly effective. Read this past blog post of mine, Try Time Blocking Instead of a To-Do List, to learn more about the merits of time blocking.
2. Go to bed and wake up at the same time each day
One of Franklin's most popular axioms was "Early to bed and early to rise makes a man healthy, wealthy, and wise," and according to this schedule, he definitely lived up to it. Each day, Franklin woke up at 5am and went to bed at 10pm, for a total of seven hours of sleep each night. It's important to note however, that what matters most isn't the time you go to bed or wake up, it's the consistency of your sleep schedule. As you've heard me say before, your body will tell you the optimum amount of sleep and the hours of the day that are best for you. For instance, my optimum number of hours is 8 hours of sleep between the hours of 10pm and 6am. You know my standard answer by now when asked: "How do you have so much energy?," it's "Eat good nutrition and drink plenty of water, do some form of exercise daily, and get plenty of sleep!" By going to bed and waking up at the same time each day, you'll train your brain to fall asleep faster and improve the quality of your sleep. To track the hours and quality of your sleep, try the Sleep Cycle app I discuss in my blog post: 8 Ways to Gain Energy Naturally or The Productivity Sweet Spot blog post or in the Talk with Tom podcast episode of the same name.
3. Spend quiet time alone
Shortly after waking up, Franklin would take a shower and then "address Powerful Goodness." In other words, he'd spend some time in prayer or meditation. This daily habit gave Franklin the much needed clarity and focus to plan the day, and to follow through on his plans. To learn more about mindfulness and the benefits of a daily meditation habit, check out my FREE 7-Day Mindfulness Meditation Audio Series. When you visit SuccessSeriesLLC.com/meditation, you will gain access to seven 10-minute meditation sessions of a simple to learn and easy to follow format of mindfulness meditation personally guided by me. You can access them anytime, from anywhere, from any device, right from that page OR you may download them and listen to each of the seven sessions any time you want.
During the first hour of my day, I practice what Tony Robbins calls a Power Hour. During the hour, I practice my morning routine. I suggest you too have a Power Hour and to assist you in creating a morning routine of your own, I have created this Morning Routine Worksheet which you can download for FREE [here]. The Morning Routine Worksheet provides you with a list of ideas to create your own well-rounded morning routine for Mind, Body and Spirit.
4. Set your intention and plan for the day
Each morning, before going to work, Franklin would set his intention for the day with an important question: What good shall I do this day? He would then pick a personal virtue to focus on, and begin to "contrive day's business, and take the resolution of the day" i.e. to plan his day. Setting an intention and creating a plan of action each morning, ensures that you stay focused on your most important task and avoid getting easily distracted by the minutia, and by other people's priorities during the day.
5. Dedicate time to learning
In Franklin's daily schedule, he sets aside some time to "prosecute the present study," which means he'd spend time on an independent personal project separate from work. Most likely, this would've been time spent reading either books or papers. For example, you or I could spend this time learning a language, playing an instrument or on our hobbies.
6. Create time blocks for deep and shallow work
To plan his day, Franklin created time blocks (such as I advocate doing in your Ideal Week and daily planning) to manage his time effectively and protect his day from unexpected interruptions. Specifically, Franklin allocated two four-hour time blocks — from 8am -12pm and from 2pm-6pm— for deep work and uninterrupted focus on his most important tasks. Likewise, he allocated a two-hour time block — from 12pm-2pm— for lunch and shallow work, i.e. reviewing his finances. By creating time blocks in this manner, Franklin finished his most important tasks for the day when he had the most energy to do so. To learn more on the subject, read my aforementioned blog post Try Time Blocking Instead of a To-Do List and my blog post entitled Four Tactics To Help You Be Super Focused.
7. Put things back in order after work
After a long tiring day at work, it's easy to walk away from our work space and leave things in a disorderly manner, only to return back the next morning to clean it up before getting back to work. Even though this saves time upfront, it wastes valuable time, willpower and energy, that could've been spent working on important tasks straight away. To avoid this problem, Franklin made sure to clean up his work space and put things back in order before leaving the office each day. Check out this blog post of mine, 7 Tips On How To Best End Your Workday, wherein I describe the importance of this in more detail.
---
 Email me at THart@SuccessSeriesLLC.com and share with me some of your biggest struggles both in your personal life and in your business; let's see if I can address them in upcoming blog posts!
---
8. Schedule downtime
After work each day, Franklin would clean up his work space, eat dinner, and spend the rest of the evening relaxing: listening to music and catching up with his friends. Downtime isn't a waste of time, it's a powerful productivity tool for re-energizing our brain and body in preparation for the challenges of the next day.
9. Reflect on your day in the evenings
Just before going to bed, Franklin would do what I, and others, call his Evening Routine, reflecting on his day and asking himself an important question: What good have I done today? After noting what went well, and what didn't go so well during the day, Franklin would look to change and improve his daily schedule. Likewise, an evening inventory of your daily activities will help you to uncover time-wasting activities that drain your energy and improve your daily schedule for better productivity. You'll remember my daily check-in asking the questions:
10. Don't aim for perfection
In his book Daily Rituals, author Mason Currey reminds us that Franklin himself struggled to stick to his daily schedule, "He was not naturally inclined to keep his papers and other possessions organized, and he found the effort so vexing that he almost quit in frustration. Moreover, the demands of his printing business meant that he couldn't always follow the exacting daily timetable that he set for himself." What matters most isn't perfectionism, it's improvement. As Franklin emphasized, "I was surprised to find myself so much fuller of faults than I had imagined, but I had the satisfaction of seeing them diminish." Celebrate your daily wins and avoid beating yourself up when you fall short of your plans, because at the end of the day (pun intended) it's our progress toward our goals that really counts.
Failing to plan is planning to fail
Benjamin Franklin's daily schedule is a simple, highly effective template for improving your productivity. Even though it was created over 300 years ago, it contains timeless principles that will help us avoid the digital distractions of today's world, and stay focused on our most important tasks.
Create your own version of Franklin's daily schedule and tweak it here and there as you find out what works best for you, but remember the words of Benjamin Franklin himself, as I found on page 103 of the book: "If you fail to plan, you are planning to fail!"
---
Please share this blog post with your family and friends.
My mission is to inspire people and organizations to live their highest vision.
I am a Success Strategist and Master Coach. I provide transformational coaching and training for individuals and organizations to help you Grow Your Life and Build Your Business by getting clear and focused on what you want, why you want it, and how to create it. Learn more about me at SuccessSeriesLLC.com.
There is no better endorsement than that of a friend, so if you like what you're reading or are using my many FREE resources, tell a friend to join the Tom Hart Success Series Community, to receive email notifications of new blog posts and Talk with Tom podcast episodes, learn of upcoming events, and other news, by visiting my website and clicking on the offer to receive my FREE monthly resource by leaving their email address OR forward this to them and have them simply click here (we respect your privacy and do not tolerate spam and will never sell, rent, lease or give away your information to any third party).