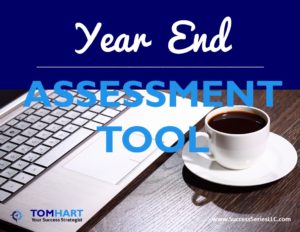 #GrowYourLife
As you look to the new year, it's important to step back and take a look at the year just finished – to take inventory, add it all up and see how you did.
What were your successes, and where did you come up short? What worked? What didn't? Which were good decisions, and which were bad? It's important to learn the lessons of life quickly or you will be apt to repeat them. The tuition for the lesson gets more expensive each time, so it's better (and less painful) to learn it the first time.
Remember, mistakes are great moments.
To help you perform your year-end assessment, I offer my Year End Assessment Tool downloadable PDF eWorkbook. It is a quick guide help you effectively assess the progress you made toward achieving your 2016 goals in your seven life areas: physical, financial, professional, relational, spiritual, personal, and philanthropical.
In it you will find worksheets to:
list goals achieved,
progress you experienced,
questions to help you review your year, and
write down actions you will take in 2017 to further your yet-to-be-accomplished goals.
Download your FREE Year End Assessment Tool here.
One of my missions in life is to move and inspire people to take action in their own personal development and business building.  It is my honor and privilege to serve you in this way.  I make it an absolute MUST that I inspire each and every one of you to STEP UP and live the life of your dreams, NOW, and not settle for less than you can be, do, have, say or believe.
There is no better endorsement than that of a friend, so if you like what you're hearing from me or are using my many resources, tell a friend to join the Tom Hart Success Series Community, to receive email notifications of new blog posts and Talk with Tom podcast episodes, learn of upcoming events, and other news, by visiting this website and clicking on the offer just to the right of this post  >>>>>>> to receive the Introduction and first two chapters of my eBook Getting From Here To There for FREE by leaving their email address.