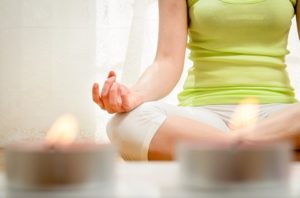 #GrowYourLife

As I mentioned in my last blog post, The 5 Reasons to Practice Mindfulness, meditation is now a key part of my ideal morning routine after, at first, being one of those individuals that used to poo-poo it saying, "I don't have time to meditate." Perhaps you're like I was and yet…you're curious.  You ask – "Would meditation reduce my stress, keep me centered, and help me achieve my goals?" You wonder – "Well…it probably wouldn't hurt, but how do I start?" If that describes you, then this blog post is for you.
I write this blog post for those who would like to try putting your toe in the water of meditation and see if it resonates with you. Meditation can be easily practiced with 3 simple steps: preparation, focus, and breath. I'll describe each step in detail in just a minute, but first I wanted to mention that my team and I have been working on a special project over the last few months which fits nicely with this and my last blog post, as well as my earlier guest post entitled Meditation and the Benefits of Its Daily Practice.
7-Day Guided Mindfulness Meditation Audio Series
I will soon be releasing a FREE downloadable 7-Day Guided Mindfulness Meditation Audio Series which you will be able to download right here on my blog, or listen to or download from my website or Talk with Tom podcast (found on iTunes and GooglePlay [subscribe today]). The meditations are seven, 10-minute mindfulness meditations personally guided by me. If you've not practiced mindfulness or mindfulness meditation, as I recommended doing so in my last blog post [here], then my 7-Day Guided Mindfulness Meditation Audio Series is a great place to start. Watch for it coming soon!
In the meantime, here's the simple 3-Step Guide to Meditation to get you going:
3-Step Guide to Meditation
Step 1 – Preparation: Find a quiet and clean place to meditate.
Once you find a quiet place to sit where you won't be disturbed. Sit with a straight back on a cushion or a chair, in a position that feels comfortable…and close your eyes. Rest your hands gently on your knees or cup them in your lap. Keep your upper body straight, tall like a mountain. Relax your chest and let your body rest easily and breathe gently.
Step 2 – Focus: Close your eyes and begin to focus.
First, take a minute or two to listen to the sounds around you. Can you hear birds chirping outside? Cars driving by? Then, move your full attention to your body. Focus on your shoulders, hands and feet. Think of them as weights and let your body feel that weight. Spend another minute or two focusing solely on your body. Mentally scan, head-to-toe. Next, let your mind wander. Spend the next minute or two thinking positive thoughts.
Step 3 – Breathe: Count it out.
Keeping your eyes closed, shift your attention over to your breath. Inhale through your nose and exhale through your mouth. After a few breaths, begin counting. Every time you inhale and then exhale that counts as one. Count up to 10. If your mind starts wandering and you lose count, simply start over. Once you feel calm and ready to take on the day, slowly open your eyes.
Additional Meditation Tips
Here are a few more tips to enhance your meditation practice:
Use a journal to write down how you felt before and after meditation.
Try smiling during meditation to help set an intention for inner contentment.
When you feel ready, lengthen your meditation incrementally over time.
Play soft background music to help you relax and set the mood for your meditation (my 7-Day Guided Mindfulness Meditation Audio Series will have music in the background).
Feeling restless is normal and a great reason to continue!
Your Action Step for Today
As I mentioned earlier, I will soon be releasing my FREE 7-Day Guided Mindfulness Meditation Audio Series, so be looking for it on my blog, website, and Talk with Tom podcast. In the meantime, do the simple 3-Step Meditation described above and please share with the Success Series Community by commenting below how you felt before and after meditating.
One of my missions in life is to move and inspire people to live their highest vision.  It is my honor and privilege to serve you in this way.  I make it an absolute MUST to inspire each and every one of you to STEP UP and live the life of your dreams, NOW, and not settle for less than you can be, do, have, say or believe.
There is no better endorsement than that of a friend, so if you like what you're reading or are using my many resources, tell a friend to join the Tom Hart Success Series Community, to receive email notifications of new blog posts and Talk with Tom podcast episodes, learn of upcoming events, and other news, by visiting my website  and clicking on the offer to receive my FREE monthly resource by leaving their email address (we respect your privacy and do not tolerate spam and will never sell, rent, lease or give away your information to any third party).