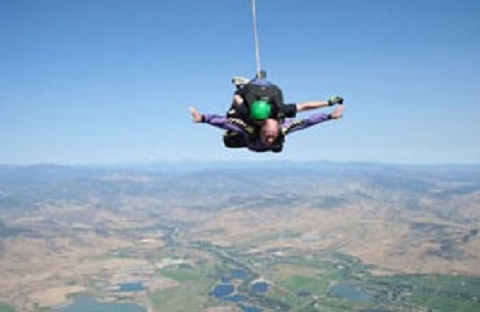 #GrowYourLife
Life Area: Personal
3 life lessons you can learn from skydiving.
When my son turned 13 I told him we would have an adventure of his choosing to move him from childhood to manhood. He chose hiking the Grand Canyon. I did the same with my daughter but by the time she had decided what she wanted to do, she had turned 16…and, gulp, she had decided to go skydiving!!
Now I write that with emphasis because though hiking the Grand Canyon was arduous and entailed multiple days (1 day down, 1 day on the bottom, and 1 day out), my son and I were somewhat prepared having made many hikes over the years. But skydiving? My daughter and I had no experience whatsoever. It was a complete outside-the-box thing with challenges of its own. For instance, my daughter had no idea that I had a fear of heights!
For years I had been developing skyscrapers. Up and down the exterior construction elevator I went showing colleagues, partners, and prospective tenants the city view from 1,000+ feet up. As I would step off the exterior construction elevator I would bee line for the middle of helipad and stay somewhat away from the edge, if I could. And here my daughter was telling me the one adventure she wanted to have was to skydive. So…of course…I had to swallow hard and just say "yes" without skipping a beat.
Life Lesson #1 From Skydiving: Step out of your comfort zone and lean into your fear.
The best time to skydive is the first jump of the day. This way you avoid the inevitable weather delays that come later in the day as jump after jump is pushed out an hour, maybe two, maybe even to the next day. So we drove out to the airfield for the 7am tandem jump and took the required orientation training, then off we went with our instructors, a few other novice divers and their tandems, and a couple intermediate and advance solo jumpers.
'Round about 5,000 feet the solo jumpers step out the door. You see, they were just after increasing their jump count to advance to the next level of their sport. We on the other hand, were going to 10,000' to be able to experience the free fall as well as gliding to a landing. Well let me tell you, when those jumpers stepped out at 5,000' my daughter and I, wide-eyed, with pupils-dilated, looked at each other and said, "We're really doing this!!"  We knew there was no going back, our turn was next.
Life Lesson #2: When you commit to a vision, follow through.
Up to 10,000' we went and sure enough when our names were called we were strapped to our instructors and ready to go. When you tandem skydive, and I hope you do, very little is under your control. Though they tell you how to position your legs and arms, and when to pull the chute, you're basically going along for the ride.
My daughter went first. She screamed as she went out the door and my heart sank. You see…as a Dad or Mom you must relate…you see, I wanted to help her, comfort her, and assure her that all would be well, but no, she was having to find out that all for herself. I was next, and out we went.
Remember me mentioning the free fall? For the first 5,000' you have the exhilaration of the free fall. You do some spinning tricks, some aerodynamics. I'm, of course, looking for my daughter hoping all is well with her and that she is enjoying the journey…to no avail. It's hard to orient to things when you're going who-knows-how-fricken-fast free falling to the earth. Then the tap on your shoulder comes to pull the rip cord. A little aside if you do go skydiving: don't worry if you don't pull the rip cord fast enough, your tandem instructor is watching his/her little altimeter and if you don't act fast enough, they will. No need for that with me, I was ready and waiting.
When you pull the chute, you shoot up about 100' and then slowly, softly, other-worldly, start to float in silence. It.is.surreal. So so cool. Your whole perspective of the earth is a paradigm shift and you begin to enjoy the ride. Back to some fun maneuvers you go and it was so silent that I could speak to Karin even though she was 100 yards away. "Hey, Kar. This is so cool!". "Yes, Daddy, so awesome! Thank you!"
Life Lesson #3: Just do it and enjoy the journey on the way.
We landed without a hitch and had an awesome shared experience to talk about – and blog about – for years to come.
YOUR ACTION STEP
Identify an adventure you've been putting off and commit today to doing it. Maybe it's starting a side business, taking a personal growth seminar or leaving a relationship. Whatever it is, lean into it. Take the first step today and let me know how it feels.
Please share this post with your family and friends.
My mission is to inspire people and organizations to live their highest vision.  It is my honor and privilege to serve you in this way.  I make it an absolute MUST to inspire each and every one of you to STEP UP and live the life of your dreams, NOW, and not settle for less than you can be, do, have, say or believe.
There is no better endorsement than that of a friend, so if you like what you're reading or are using my many FREE resources, tell a friend to join the Tom Hart Success Series Community, to receive email notifications of new blog posts and Talk with Tom podcast episodes, learn of upcoming events, and other news, by visiting my website  and clicking on the offer to receive my FREE monthly resource by leaving their email address OR forward this to them and have them simply click here (we respect your privacy and do not tolerate spam and will never sell, rent, lease or give away your information to any third party).